4 Steps to Rate & Review the Podcast in iTunes
Thank you for visiting the Relentless Health Value website! If you enjoy the show, I'd be VERY grateful if you could rate, review, and subscribe on iTunes. If you think our show could improve or would rate it any less than 5 stars, we would love it if you could contact us directly to let us know your thoughts.
If you've never used iTunes, or are unsure how to leave a review, here are 4 simple steps to rate and leave a review on iTunes:
Start by Finding the Show Online and Clicking "View in iTunes"
The Relentless Health Value podcast can be found here.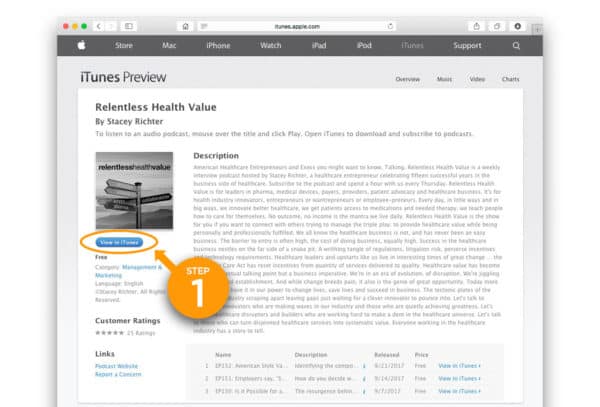 Once in iTunes, Select "Ratings and Reviews."

Select the Star Icon to Leave Your Rating. Then Click "Write a Review"
A Pop-Up Window Will Appear for You to Write and Submit Your Review