Yeah, it's a fact that the vast majority of past and present provider and payer relationships are not exactly collaborative. They may better be described as fairly adversarial, actually—especially when viewed through the lens of provider organizations trying really hard to find a payment model that will enable them to do better by their patients and deliver better outcomes.
We've had Justina Lehman (EP414), Ali Ucar (EP362), Dan O'Neill (EP359) talking about this from the provider organization standpoint. We also had Dan Serrano (EP410) and Will Shrank, MD (EP413) corroborating here.
But after each of these earlier episodes, many comments and conversations ensued about said potential (or not) payer/provider collaborations. And there was a theme of many of these online exchanges. The theme was wondering if we'd all get laughed at for even talking about these rare and elusive Shangri-la scenarios. Like expending words and energy thinking about payers and providers working together was as crazy as being seen earnestly discussing, I don't know, whether mermaids know about pants or something.
And that's why I wanted to get Josh Berlin on the podcast today: to talk about the why, the what, and the how of collaboration. I wanted to know if there really is a solid why here for the why collaborate, especially from a payer point of view. And when I say payer, I mean a payer kind of payer like a Blue Cross, United, Cigna, Aetna plan kind of payer.
And I'm calling that out because payers are intermediaries in all cases except for their fully insured members. Except for that one book of business, entities actually taking the risk are taxpayers or self-insured employers. So, saving money on its face is not a super compelling value proposition. Listen to the show with David Contorno (EP339) for the why there.
As we talk about in the interview that follows, though, what might be compelling is predictable spend, possibly—or even more compelling could be a competitive differentiation for that payer that leads to higher market share. Payer/provider collaborations can also lead to a more resilient market foothold that can stand up to threats from upstart competitors or big tech and big retail swooping in looking for a tasty slice of this $3 trillion industry. There's also the potential for a higher profit margin.
And, oh, one additional reason to collaborate if you're a payer that we don't get into super heavily but I'd be remiss to not mention is the whole Star Ratings thing for Medicare Advantage plans, because stars equal big money. But a payer is not gonna get that Star Rating shekel if providers aren't delivering high enough quality care. Also, of course, we have HEDIS (Healthcare Effectiveness Data and Information Set) and other quality measures that have financial value ascribed to them.
In the conversation that follows, Josh talks about different types of collaborations. Collaboration is a really very vague term, so what exactly is this collaboration, what does it entail, and how do you do it?
Josh told me that there are five kinds of collaboration, and here they are in order of their depth of entanglement, I guess you could call it.
1. Sharing data back and forth
2. Use that data to identify areas of need and then do something programmatic together, like create clinical pathways or work on one very specific type of quality program.
3. A joint venture (JV)—you JV and work together on some sort of narrow network kind of product
4. Become capital partners in some way.
5. Having a risk-bearing kind of relationship—the provider gets a piece of the premium dollar
So, that's the five types of collaboration. But here's the things you've got to tick through, that you have to really go through and make sure you've got all these things before you start. Otherwise, it'll be a monumental waste of time.
1. Complementary capabilities that enable scalability
2. A desire for sustainability in a market, and both have common goals and objectives and an agreed-upon time horizon
3. Both parties need to be pretty flexible. Rigid products have a shelf life. You've got to be willing to advance with market dynamics flexibly—know how to iterate around whatever it is you're doing.
4. Excel at collaboration. If you're going to collaborate, you have to know how to collaborate. And that's a cultural thing.
5. Compatible risk profiles—this means not just "taking risk" but knowing how to do it in a way that will work and navigating around things that could cause trouble when moving from fee for service to a more capitated way of going about things. Josh talks about some of them.
Just to loop back around on #4 there, because … yeah, to collaborate, you need to collaborate. I call Josh out on this one, and he reiterates that … yeah, nothing to take for granted here. It might seem obvious, but it's so frequently an internal unknown unknown—at a lot of payers especially. I mean, if I'm a provider organization and you force me to only communicate with you through snail mail (ie, postage stamp, letter box, the whole nine), I don't know, I'd kind of get the vibe that I'm being enthusiastically ignored, which I just cannot square with a collaborative spirit of any kind.
Josh Berlin is a founding partner of Rule of Three, which is a consulting firm. Rule of Three has clients that are physician practices, hospitals, health systems on the traditional side; and they also work with nontraditional organizations like Walmart Health and Wellness. They also work with payers, like regional blues and employer plans.
You can learn more at Rule of Three and by connecting with them on LinkedIn.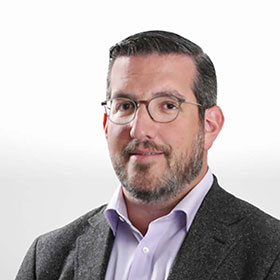 Josh M. Berlin, JD, is CEO of Rule of Three, LLC, with more than 25 years of experience, most of which has been in healthcare advisory in service to his clients. Most recently, he has served as principal and co-practice leader of Citrin Cooperman's Healthcare Practice and managing partner for IBM Watson Health's Strategic Advisory Practice, leading a unique group of consultants in each instance to serve clients across the full healthcare ecosystem (providers, payers, employers, governments, advocacy, etc). Prior to those roles, Josh served as a principal in the healthcare consulting practice at Dixon Hughes Goodman (now FORVIS), helping to lead their strategy consulting business, and served as a leader in all versions of KPMG (KPMG Consulting/BearingPoint and KPMG). Currently, he serves on the Boards of the Validation Institute, Population Health Management journal, and HealthTrackRx.
Josh's expertise spans both the consulting and healthcare industries. Some of his clients have included the Hospital Corporation of America, the Department of Health and Human Services (including the Centers for Disease Control and Prevention and the Centers for Medicare & Medicaid Services), various pediatric health systems, the National Association for Healthcare Quality, Nebraska Medicine, Penn Medicine, the Ochsner Health System/Network, the BJC Collaborative, and The Leapfrog Group, as well as a variety of other healthcare organizations. Josh has developed long-standing client relationships at all levels of organizations, notably including some of the most prestigious C-suite executives in healthcare today.
06:06 Why should payers want to collaborate with providers?
09:46 "Collaboration … is bilateral. … Both sides, plan and provider, should be equally as interactive with the individual populations they work with."
12:37 What are the must-haves for collaboration between providers and payers?
13:10 What are the five different types of collaboration?
16:03 What are the five characteristics you want to be focused on in partnership?
22:16 In order to collaborate, do you have to be collaborative?
26:11 Ochsner as a great example of collaboration.
27:46 Episodes with David Carmouche, MD, and Eric Gallagher.
28:51 A collaboration failure in Haven.
You can learn more at Rule of Three and by connecting with them on LinkedIn.
Josh M. Berlin of Rule of Three, LLC, discusses #payer and #provider #collaboration on our #healthcarepodcast. #podcast #digitalhealth #valuebasedcare #healthcare
Recent past interviews:
Click a guest's name for their latest RHV episode!
Dr Adam Brown, Rob Andrews, Justina Lehman, Dr Will Shrank, Dr Carly Eckert (Encore! EP361), Dr Robert Pearl, Larry Bauer (Summer Shorts 8), Secretary Dr David Shulkin and Erin Mistry, Keith Passwater and JR Clark (Summer Shorts 7), Lauren Vela (Summer Shorts 6)